This week I decided to do something miles away from my comfort zone.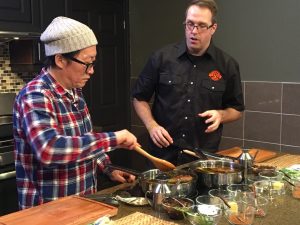 Since 2011, this little webpage has acted as an insulating buffer between myself and the reader.  My 'voice' was expressed through typeface and I had the benefit of time, editing, and occasional proofreading to refine my ethic and message dozens of times before I put it out there. I've had all the control so that on the (rare) occasions that hateful or crude comments show up that revile me for being a hunter, or poke holes in my logic, or (to directly quote one aggrieved reader) deride me as just some "city boy pretending to hunt", I simply delete the offending statements and move on my merry way. Unsolicited hate mail gone forever, just like that.
But this week, I lacked that luxury.  This week I did a television shoot, and went from 'single voice among thousands of outdoors websites' to 'single voice talking straight into a television camera'. Those experiences are fundamentally different, and the public perception of those things are equally divergent.
For context, I was approached by Sang Kim, who is an author, chef, and television personality to talk about hunting and guns, as well as to cook my favourite wild game dish, which in this case was a wild turkey leg confit. I of course jumped at the opportunity because those are things I love talking about and things I love to do. But it did lead me to an existential crisis, and when I'm in an existential crisis, I write about it so here we are.
You see, there's a chance I might be cast in the all-too-bright light of "expertise" which has always made me uneasy and self-conscious.  For whatever reason, even though televised media (even internet-based televised media) is ubiquitous, there still exists a sense that those with a mass-media platform have expertise. So, by way of full disclosure, here's what I'm expert at.
I'm an expert at sharing my opinions.
I'm an expert at shoving delicious wild game into my face.
I'm an expert at trying new things with little forethought for how the external reaction is going to be.
And that's where my head was during the shoot.  I offered opinions and statements on what I thought to be pertinent or what I believed to be valid on a variety of topics, some of which I was prepared for and some that I was not.  But nothing is off limits to me, so I gave it the old college try.  The demographic is non-conventional from a hunting perspective, the platform is non-conventional to typical media, and if anything, I'm not the typical 'hunter' stereotype (I think).
Some of what I said and believe will be unpopular with non-hunters and non-gun owners.  Some of it will be unpopular with hunters and gun owners. But all of it sits well with me which is what matters I guess.
Also, there's that lingering and perverse fear that I have where people are going to ridicule and hate and mock me in a very public forum.  All the tough guy attitude, spunk, and bravado available to me still aren't going to stop trolls and keyboard-social justice warriors, and other "better" hunters who might feel more representative of the tradition from trying to make me their whipping boy on YouTube.  But I guess that's their prerogative and not mine.
Of course I'm not looking to be a martyr for the cause (although I would be if I had to I suppose) or for personal sympathy, or kudos, or bland affirmations.  Nor is this a pre-emptive disclaimer begging for kindness, forgiveness, or understanding because I waived rights to those things when I opted into this opportunity.  I'm mostly just going through prose therapy or literary diarrhea or whatever this actually is.  But at the heart of the matter, I'm writing this to clarify my hopes.
I'm hoping that I wasn't too far off the mark in my opinions, hoping that I was representative of my personal ethics, and hopeful that my turkey calling was at least passable; the birds seem to like it anyhow.  I've yet to see the finished, edited product yet but the hope (there's that word again) is that the passion and the simple message I have does not get lost in translation or flogged to death in a comments section.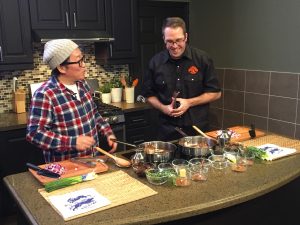 In all, the only thing I want is to represent hunting and the outdoors and my passion for both of them respectfully, humbly, and clearly. I also liked that I got to get myself a tidy new branded t-shirt with shiny dome fasteners out of the deal.
There were things that may end up on the cutting room floor.  There were things I desperately wanted to share that just never came up. Thankfully, I can honestly say that I never had a moment in the whole shoot (which was amazing by the way and an experience absolutely worth any stress or backlash that may come out of it) where my internal monologue went "Uh-oh, don't answer that" or "This sounds dumb" or "This whole premise is ridiculous and going to negatively represent hunting and hunters".
Still, it's over now and nothing can be done about it anyhow, even if I had contributed something incredibly stupid to the record.  I knew the 'risks' about taking it on and did it gladly, because declining this would have led to regret and I like to live with a "what-the-hell" mentality. At best I like to think my opinions and contributions are benign and conciliatory.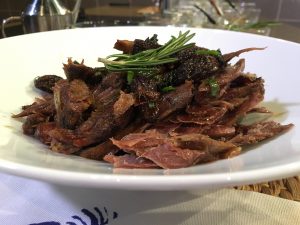 For Lucas Hunter, Chef Sang Kim, my family, TagTV and all those that supported this, I quite literally cannot thank you enough.  This was a once-in-a-lifetime thing and I'm truly glad I did it.  For those that want to actually see it, we'll post the details once they come available.