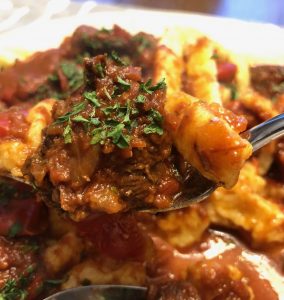 I was laying in bed the other night, thumbing through Instagram in a state of voluntary social distancing, when I came across a post from @TheFreeloadingGoat showing a very appealing plate of Hungarian goulash. Canada Goose Hungarian goulash.
Now I do like goulash, but if there is one issue I have with it (and I'm really quibbling here) it is that it is not quite hearty enough for me. I've had excellent goulash dishes in Hamilton, Ontario at the venerable Black Forest Inn, as well as at the very generous Two Goblets in Kitchener, Ontario and both were as authentic as you could find. But I wanted something just a little heavier, a little more emphatic, and I remembered another Hungarian dish, Chicken Paprikash, that was just a little more substantial. The flavors stronger, with thicker gravy that was, as I recalled, more tomato-based.
And I had plenty of Canada Goose meat in order to make this happen.
Paprikash is pretty simple when you get down to it, but it is in the simple use of good ingredients that have ended up as some of my favourite plates.  This stew was rich, filling, and paired perfectly with a Pilsner Urquell.  Of note, this recipe uses smoked paprika because that's what prefer, but mild/sweet or hot and spicy paprika could be substituted in based on your personal taste.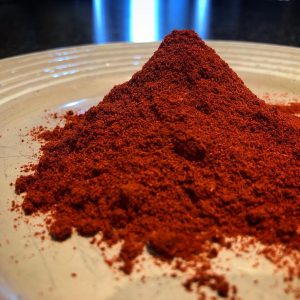 Where I absolutely agreed with the post I saw was that this rich stew was going to have to go over spaetzle. That meant making some spaetzle, and I have always failed horribly at those elusive but oh so yummy German noodles.  I once tried to make them using a colander, but I ended up less with noodles and more with little boiled dough-balls. Another time I found a 'hack' saying that a box cheese grater would do the trick. I won't speak of the outcome other than to say it did not do the trick I thought it would.
Undeterred I resolved to try again, and this time I found success. My trick? I cut the corner off a zip-top plastic bag and made it into a sort of piping bag.  From there I just piped the noodle batter into simmering water and waited for the magic to happen. Turns out spaetzle is pretty simple too.
As we all find ourselves (hopefully temporarily) social distancing, hunters are uniquely positioned in that we are not as fully at the whims of the supply chain, and we can often rely on some of our own wild caught or shot protein when heading out to grocery stores is less of an option. If you have some Canada goose breasts in your chest freezer, pull them out and turn them into this. You won't be sorry.
As an added bonus, this recipe makes a big pot of paprikash, so there will be extras. I re-heated the leftovers tonight, then poured them over some savory pancakes and put a fried egg on top of the whole thing.  I can assure you this dish gets even better after a couple of days in the fridge.
Goose Paprikash
2 tbsp vegetable oil
3 medium sized Canada goose breasts, chopped into rough cubes
1 large onion, minced
3 large garlic cloves, crushed
2 medium red bell pepper, chopped
4 tbsp smoked paprika
2 tsp caraway seeds
1 can tomato paste (156ml)
1 can of diced tomatoes (796ml)
Salt and black pepper to taste
1 tbsp chopped fresh parsley
Heat 1tbsp of the oil over medium-high heat in dutch oven or stock pot.

Add the goose meat, browning it on all sides in batches, ensuring not to overcrowd the pot. Set aside the browned meat.

In the same pot, add the remaining oil and heat the onions and peppers until they are softened, but still slightly crisp.

Lower the heat to medium-low and add the garlic, stirring it until it starts to soften, then re-add the meat.

Add the can of tomato paste and stir the meat and vegetables together until they are all coated.

Add all of the paprika and the caraway seeds, and again stir until everything is coated.

Pour in the can of diced tomatoes. Depending on the size of your pot, the goose and vegetables should be just barely covered, but if not, add a little water or red wine.

Cover and simmer over low heat for at least two hours, or until the goose meat pulls apart easily with two forks.
Spaetzle
2 cups all-purpose flour
4 eggs
½ cup of water
2tsp kosher salt
2tsp butter
In a mixing bowl, stir the flour and salt together, then make a little well in the center.

Beat the eggs with a fork and add pour them into the well, along with some of the water.

Using the handle of a wooden spoon, stir this until a thick, stretchy batter begins to form. Add some, or all of the rest of the water if it is too dry.

Heat four cups of salted water to just below a boil.

Stir for five minutes until it begins too look stretchy, then put it into a large, sturdy, zip-top plastic bag.

Snip one corner of the bag, leaving a hole roughly the size of a pinky finger.

Squeeze the dough through the hole in the plastic bag slowly, snipping off noodles about an inch long.

When the noodles float and are firm to the touch, remove them to a colander and let them drain.

Heat the butter over medium heat until it melts completely and foams.

Add the spaetzle to the butter, tossing for two or three minutes until they are coated.
Serving
Put a layer of spaetzle on a big plate.

Pour the paprikash over top.

Sprinkle with parsley.

Eat it greedily while not speaking to anyone else at your table.