In the years since I became an "independent" (read: unaccompanied adult) hunter, I have accumulated goose calls at a near staggering rate.  I'm not on the level of calling myself a collector yet, only because I define a collector as someone who owns more of something than they could conceivable utilize.
I've conversed with goose call manufacturers and collectors, as well as men and women with dozens and dozens (and in a few cases, over a hundred) of goose calls, and even they admit that there is no way they could possibly hunt with them all.  Some are showpiece or limited edition calls, others just calls that look nice on a mantle, while others still are 'working calls' that sound exceptional and see their share of time in the blinds, fields, pits, and swamps that we waterfowlers frequently skulk about in.
To date, all my calls have been 'working' calls, and both through the expansion of my goose calling abilities, as well as through necessities of space and finances, I've been turning my inventory of calls over these past twenty years by selling or trading older calls for either newer calls themselves or more frequently, for the capital required to purchase more goose calls.  I've owned several styles, tried dozens more, and from my Dad's wooden Olt call, through to my current tools I could tell stories and share tidbits about them all; many of the older calls that I have not traded or sold sit in my gun cabinets and ammo lockers, or hang dusty on lanyards in my closet.  With all that said, this piece is going to focus on the three calls that will be residing on my lanyard this coming September.  All opinions here are my own, and the companies listed below have not had any contact with me regarding their products with respect to these reviews.
Super Mag
The first truly 'custom' short reed goose call I ever owned was my Super Mag.  It has been the last thing a lot of geese have heard since I started using it in 2005.  For years before I made the plunge into the custom acrylic short-reed market, I had been honing my skills on a variety of goose calls, from polycarbonate short reeds bought for $25 at the local hardware store to more elaborate flute-style calls bought online.  Those calls were important in learning how to run a goose call and to make the requisite sounds needed for hunting, but they all lacked 'something'.  Some did not have enough high-note snap to be effective on windy days, while others lacked precision and realistic tone on the low moans and lay-down calls needed to finish geese close in.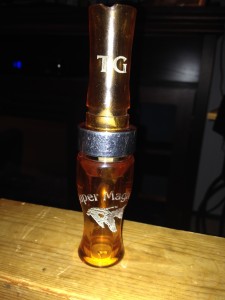 The second I took the Super Mag out of its package, I could tell it had three things going for it.  First, it was sexy looking, with a polished silver band wrapped around amber acrylic that shared its colour with a well-aged bourbon.  Second, I could tell that it was solidly made by someone who hunted geese; simple minimalist lines fit comfortably in the hand and it was well-balanced.  Third, and most important, it sounded like a real goose.  For the first time I had a call that could flat out scream on a windy day, but was subtle enough to work low end moans and growls for when the birds were just about to commit.
It took a lot of practice to re-learn how to blow a short-reed goose call, but luckily it also came with a cassette tape (it was 2005 after all) with instructions from Tim Grounds and his son, Hunter.  If it had a downfall, my only complaint about the Super Mag was that it took (and still does take) a lot of air to get it running correctly.  The reed is set up quite stiff, and while this does make for absolutely realistic low end calling and crisp, snappy honks and clucks, you need to work hard if you need to run it consistently for a long time. That said, Tim & Hunter Grounds will custom tune any call you send them, and I won't ever forget the day I came home from work and found a message from Tim himself on my home answering machine.  I had sent my call to them because I had managed to crack the reed near the end of the 2010 hunting season. That evening I was like a star-eyed fanboy when I called him back and we talked for ten minutes about the call and how I wanted it tuned with the new reed.  The call has been money ever since, and I'm now obsessive about my reeds and ensuring they are taken of.
On a personal note, this call is still my go-to, both because you never forget your first and because it is just a blue-collar workaholic call.  I have had bloody hands on it, it has been scratched and worn, I've used it on freezing winter mornings, and I even slammed it in a car door once.  It has character and it still sounds great.
Tim Grounds Championship Calls
PO Box 359, 14331 Prosperity Road
Johnson City, Illinois
62951
Phone:  (618) 983-5649
The Goose Noose
During the 2014 off-season, I resolved to get my hands on a nice wooden short reed goose call, primarily because we had taken to hunting water now and then and I felt that the acrylic Super Mag created an unwanted echo.  I tried calls from Zink, Buck Gardner, and RNT before I found this hidden gem at my local (and newly-opened) Cabela's store.
From the second I started blaring on it in the aisles at the store, I noticed that it had a dimension that my Super Mag did not have.  It was mellow, smooth, a little bit understated but truly goosey, especially on the moans and low end calls.  It still could run at some pretty high volumes, but while the Super Mag could plead and scream with ease and only worked the nice low end calls with some serious back-pressure, this call moaned and barked with less air and less back pressure, and even though the spit-notes and hail calls came out with a more mellow tone, it took a fraction of the air that my Tim Grounds call used.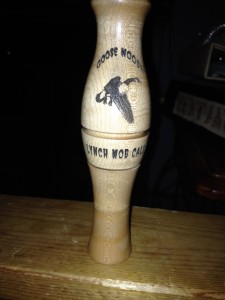 I had not heard of Lynch Mob Calls before that day, so I went home and did a bit of research.  Satisfied with what I found, the next day I was back buying the call, and I began obsessively practicing on it.  I found YouTube clips, I looked for articles, and I ran it nightly.  Lynch Mob Calls has since replaced this model with one they call the Game Over, so in a way I guess I do have a bit of a collector's item on my hands.
What can I say about this call?  It has great mid-to-low end tone and on calm days or over water it is deadly.  After huffing for nearly a decade on my Super Mag it took some practice to scale back the airflow so that I did not overblow it on honk, clucks, or comeback calls, but once that was mastered this call runs slick, deep sounds that are 'big goose' all the way.  I had more success with it in the later October and early November hunts, but even in the early September season it fooled resident Canada geese often.
Lynch Mob Calls
9032 Bay Creek Road
Erie, Michigan
48133
Phone: (734) 848-2501
www.lynchmobcalls.com
Shorty Express SS (Signature Series)
I spend a lot of time in the local BassPro Shops store, and for a long time I had coveted this call.  It has clean, sharp lines, the polished band glows, and I flat out love the colour.  I did not love that it was priced in excess of $180, and I tried it over and over again on multiple trips to the store in attempts to convince my fiscally-responsible side to make the impulse purchase.  Every time I had to put it back. Then in 2014, I stopped in to BassPro on my way up to the early November deer hunt to pick up some scent eliminator for one of the guys in camp.  On a whim I cruised by the duck and goose showcase, and I was taken aback.
The call was marked down to $45.99.  I was sure it was a mistake.  I located the floor staff and asked them to take a look in their inventory system.  The price was correct, and they had one left.  So I bought it.  I was more or less done with waterfowl for the year and I was focusing on deer hunting from then out, but I noodled with it for the evenings in deer camp and then even more during the long cold lonely winter up here in Ontario.  It fell out of use for the bulk of turkey season, but I picked it up again recently and have actually been so focused on it that I have not even picked up and practiced my other two goose calls.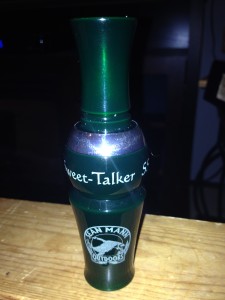 The Shorty SS is a dark "mallard" acrylic and it just looks downright sexy.  It has nice lines with a curvy, rounded barrel.  The insert is a little narrow in the hand for my liking but it is not uncomfortable.  In terms of its sound it falls in between the Super Mag and the Goose Noose for volume and tone.  It makes solid goose-talk from top end to bottom end requiring just slightly more air than the Goose Noose, but almost any sound can be made using less back-pressure and expenditure than with my Super Mag.  Being an acrylic call, I find that it has a tendency to slide into the 'high' end easily, so in the same fashion as the Goose Noose I have to use caution not to over blow it and cause it to 'squeal', but it barks and double-clucks like nobody's business.  I am very much looking forward to running this call on some of the resident Bruce County geese in six weeks.
Sean Mann Outdoors
555 Marlan Drive
Trappe, Maryland
21673
Phone: 1-800-345-4539