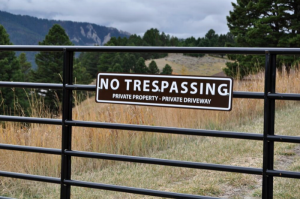 Competition is generally a good thing.  It builds character, it drives improvement, and it fosters a strong work ethic.
This is, of course, the conventional definition of competition, which is not what I'm going to be talking about here.
Reports are starting to trickle in from friends and family, and overall it is looking like being another solid season of waterfowling for 2017. Things have been slow to ramp up, but that pattern has appeared in previous seasons with the action heating up as more crops are cut and cooler weather brings fresh migrators through.
But this year, unlike previous seasons, the reports from the field indicate that competition for access is going to be high, and I'll expand on that topic in a few paragraphs.
I think back to my formative years when there was virtually no conflict at all when it came to access.  Provided you had a decent relationship with the local landowner and you left the place better than you found it, there was simply no problem at all in getting into a good spot for a shoot.  Almost every landowner we used to have access with asked little more of a hunter than simply closing a gate or parking in a certain spot on the property, and although some would gladly accept some wild game or labour in exchange for hunting permission, most did not even care for that.
Most were just happy to have someone shooting the geese off of their fields.  But something has  changed.  Goose hunting is business for some now, and a few select outfitters have taken to leasing access from landowners (sometimes at premium rates) directly aimed at the exclusion of local, recreational waterfowlers from fields and areas they have traditionally accessed simply on goodwill.
It is tradition versus business, and tradition looks to be losing.
Five points are problematic here and I'll briefly summarize them now.  Hopefully these serve as some idea of what myself and other waterfowlers (call us amateur, recreational, local, legacy, or whatever else you want to label us with) are dealing with in relation to professional groups barring access through rental payments to landowners.
Reduced Access
Since many do not have the means (through a prepaid client base) to pay up front for access, or to even pay for access at all, for non-professionals, there will be a direct loss of hunting opportunity. That such a situation is problematic when organizations like Delta Waterfowl and Ducks Unlimited are bemoaning low hunter recruitment and a loss of support for waterfowling is obvious.
A Dangerous Precedent
Related to point one, this could conceivably set a 'pay to play' precedent with local landowners, putting a once democratic pastime in the hands of a moneyed few, or in targeted business interests. In many areas of Canada, there is little 'lease' type of access in contrast to what is seen south of the border.  Hunting leases have been targeted as one of many reasons for dwindling hunter participation in America, and it also creates competitive crowding on public lands.
Hunter Conflict
It is not difficult to see how the practice of paying for access at the prohibition of local hunters from their traditional fields and marshes could create conflict.  Waterfowlers in particular seem more attached to the places they've hunted and the relationships they have cultivated with landowners.  To reduce those traditions and relationships to merely commercial relationships will most certainly lead to a broader divide in the hunting community.  Is an 'us' versus 'them' between outfitters and their paying clientele on one side, and what I'll call non-professional hunters on the other really what we need in a time when the tradition is believed to be under attack from outside forces?
Hunter Apathy
This is the scary part.  Generations of waterfowlers, suddenly finding themselves on the 'outside' may lead some to give up altogether.  Think I'm being alarmist?  I've seen several examples both in the area I hunt and on countless forums, magazines, and in public interaction that lead me to believe many hunters will just say "To hell with it, then" and just stop chasing ducks and geese out of stubborn resentment.  If this happens, and I really do believe it is underway in some places, who will buy the waterfowl stamps necessary for conservation, who will support DU and Delta, who will champion waterfowling to a non-hunting public, and most importantly, who will pass this timeless and incredible tradition to the next generation?  I do not believe this is me using hyperbole.
Hunter/Landowner Relations
For a long time, hunters and landowners worked cooperatively, in a non-commercial sense.  Hunters would offer their labour in exchange for access.  They would offer part of the harvest to any landowners interested in fresh goose meat or a plump mallard. They checked on the fields and popped into the marshes just to make sure things were on the up and up.  In some places I've heard stories where hunter access has discouraged trespassing.  In short, there was a sense of community between landowner and hunter.  But with land ownership being centralized and held outside of the local communities, and with guide services exploiting their superior financial position relative to local hunters, how could good relations between landowners and local hunters as stewards of the land continue?  If a guide service has the means to pay, and a landowner wants the money, far be it from me to think I could intervene in a meaningful way.  But an outfitter visits a spot in season a few times, with paying clients from outside the area.  They are there short-term and they are usually gone.  A local that gives a damn about the land drives by it every day.  But I imagine absentee landowners and outfitters care little for these long-term relationships.  To say nothing of the anecdotal stories heard occasionally about guided hunting parties leaving gates open, litter behind, and the like; what kind of landowner relationships spring from that?
Now this could all be construed as just so much 'bitching', or a reluctance to 'adapt' and perhaps it is those things in a way.  Local hunter in our jurisdiction, and it is possible that in other areas as well, do not have ready means to 'rent' access, and we cannot really control the price paid by outfitters and guide services to lock us out.  But with access at a premium, and long-standing tradition of 'amateur' hunting in the area, the grievance is legitimate.
It also calls into question, ultimately, what the guide services and outfitters are truly interested in progressing.  Is there a real concern about the long-term viability and participation in the tradition from the grassroots level, or is self-interest in business the lone driver in this push to exclude local participation from waterfowling?  As I see it, paid access is a threat to the viability of the sport long-term, especially in areas where there is not a history of leased access.
I suppose the motivations of those doing the paying and those taking the money are ultimately unknowable answers, but I know where my best guess aligns.