Early season goose hunting can be a struggle.  Stale, local birds, a still-limited number of suitable fields for hunting, and heavy pressure from other hunters that, like you, have been chomping at the bit to get started shooting geese again.
This past weekend was one of the starkest examples of this that our group has had; just two geese fell over the course of a series of weekend hunts. High winds and tough field conditions had us flagging and calling to several groups, and some even looked like they'd commit, but at the end of it all they often just moved on to other areas.
So, with just two birds to work with, I took as much as I could off them.  I went slow and methodical in the butchering, getting every last speck of breast meat for grilling or pastrami, the full tenders for a little pan-fried afternoon snack, the legs and thighs for a slow-cooked braise, and in a new adventure I pulled out two plump little goose hearts and after I trimmed the arterial scraps from the top of them, I found myself with two delectable looking morsels.  One had a single pellet hole in it; proof of what brought that bird down from the sky.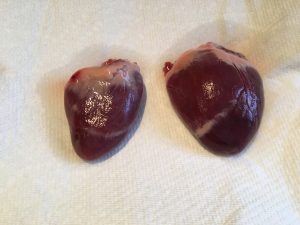 If there had been more geese (and thus more hearts) I would have thought of something more elaborate, but for having just the pair of them I decided to make a quick little fry-up. The technique is simple enough and when I pulled the two hearts from the frying oil, I could tell I was going to like them.  Speculatively I cut open the first heart, the panko-crust crackling like a potato chip, and I was not disappointed.  It was cooked perfectly and after one taste I was addicted.  I think I ate the second heart in one big bite. These are an absolute "must make again".
Sure to be a hit with those who like deer, moose, elk, lamb, or beef heart, these go well with the cold beer of your choice.
Ingredients
1 cup of 1% milk

3 tbsp all purpose flour

1 ½ tbsp cayenne pepper

1 cup of Japanese style (panko) breadcrumbs

½ tsp kosher salt

Peanut or vegetable oil (enough to fill a saucepan or fryer two inches deep)

6 Canada Goose hearts

1 large egg
Cooking Steps
An hour before cooking place the goose hearts in a bowl with the milk. Let soak for 30-45 minutes.

Remove hearts from the milk, rinse and then pat dry or place on a wire rack to air dry.

While the hearts are drying, heat the oil to 375 degrees Fahrenheit.

Mix the cayenne and flour in a small bowl.

Beat then egg in a separate bowl.

Add the panko to a third bowl. I added more cayenne to the panko, but that's strictly optional and more an indication of my level of mental illness than anything else.

Roll the goose hearts in the flour and cayenne mixture, then dip them in the egg mixture, before tossing them and coating thoroughly with the panko crumbs. Set aside for a few minutes to let the breading dry.

Add the hearts to the hot oil, ensuring not to crowd too many in or the oil temperature will drop.

Fry for 6 minutes total, turning the hearts to ensure even cooking.

Remove and set on a plate with a paper towel to cool. Season with the kosher salt while still hot.

After 2-3 minutes they should be cool enough to eat.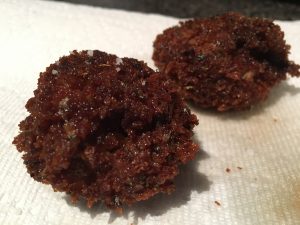 I like the crispiness of panko breading, but I'd bet you a shiny dollar that if you dumped a mess of buffalo wing sauce over these they may not be as crunchy, but they'd be just as tasty.