Sadly, and as discussed previously in this forum, for many hunters Canada Geese have a terrible reputation as waterfowl table fare.  Far and away most people laud the specklebelly and they salivate for plump roast canvasback as the pinnacles of goose and duck meat respectively.  Sandhill cranes, if only they were legal to hunt in Ontario, are apparently the finest game bird you can consume, but I haven't yet had the pleasure.
But as for the common Canada Goose, I've prepared it stewed and simmered, while other times I've slathered them in jalapenos, cream cheese, and bacon, such that the goose is merely a vehicle to carry the other ingredients.  We've made pulled goose sandwiches regularly in waterfowl camp, and our group recently started grinding goose breasts and bacon together to make sausage patties for breakfast sandwiches a.k.a. "McHonkers".  This says nothing of the countless pounds of pepperettes we churn out and consume annually. All good preparations, but also all aimed at "using up" the birds and mingling them all in with other ingredients.
I ask you "Where is the goose?"
So, I get it, I'm strange.  I harvested and fried up goose hearts this fall, while my compatriots looked at me suspiciously.  I turned down part of my share of pepperettes this year in favour of taking home a pile of goose breasts and legs, while more than one shooter in our group remarked about me eating the 'trash birds'.  But, at the end of the day I really do like the taste of a Canada Goose. If they are migrators with a layer of corn-infused fat on their breasts, then all the better.
To that end, here is a simple goose recipe I cooked up for myself over the holidays. With some degree of modesty, it was pretty much the best goose I've ever eaten, and it will just keep me coming back for more, instead of skinning and portioning all the birds for the grinder.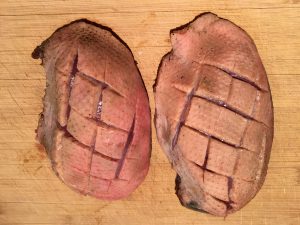 Ingredients & Preparation
Pan-Seared Goose Breasts
2 Canada Goose breasts, skin on
Salt & Pepper to taste
Preparation
Preheat an oven to 400 degrees Fahrenheit

Ensure the goose breasts are at room temperature and are patted dry with a paper towel

Score the skin in a cross-hatch pattern.

Season the breasts with salt & pepper thoroughly.

Add the goose breasts to a pan, skin side down, and turn the burner on to medium heat.

Sear the breasts until the skin is brown and crisp. I find this takes eight to ten minutes depending on the size of the breast and temperature of the burner. To get an even sear I like to 'press them' with a heavy pan, otherwise the ends of the breasts curl up and don't get as crispy. Watch the breasts closely, because if they burn, they are essentially ruined.

Turn over the breasts and place the pan in the middle rack of the oven for 10 minutes until the meat is medium-rare to medium. If you feel it needs more time to reach your desired level of done-ness, I recommend keeping them on the heat until you are comfortable, but over-cooking will make them chewy.  This is also a good time to add any additional salt, pepper, or seasoning that you may want to freestyle onto the skin side (I prefer a bit of cayenne pepper, but that's just me).

Remove the breasts from the pan and rest them, skin side up, on a cutting board for five to ten minutes.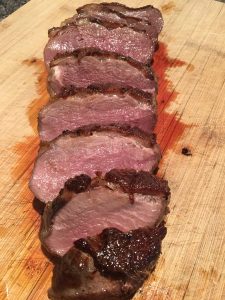 Raspberry Balsamic Sauce
½ cup raspberry jam
3 tbsp balsamic vinegar
1 tbsp Dijon mustard
Preparation
Mix the mustard, jam, and vinegar in a small mason jar and shake vigorously until mixed well.

If this is too thick, use a small amount of warm water to thin it out to the desired consistency.
Serving
Once rested, slice the goose breast into strips, skin side up. Drizzle a generous amount of the glaze over the goose. The sauce is tangy enough to cut through the very rich goose. I had this with over the holidays with some roasted brussels sprouts and spicy, sunny-side-up egg, but this goose breast goes well with pretty much anything.