So there you are. You have black bear steaks in hand, and you march over to your grill. You have heard of trichinosis in black bears and you are experiencing an existential crisis. Maybe you are even having irrational panic of contracting some other unknown illness from undercooked wild game. So, you put those steaks on the grill for a hard sear. You flip them, and press them, and hell, you maybe even cut into them to see how "done" they are. They are still red, so you close the grill cover and wait. Then you check again. Still too pink for your comfort level. Maybe you run in and get a meat thermometer or check the Google machine to research foodborne illnesses, but by the time you've done all those things, your poor bear steak is well-done, blackened on the outside and grey and flavourless on the inside. But since you shot it, you choke it down like the ethical hunter you are and then you resolve to not eat bears again.
It is okay, that's natural, and this happens all the time. But it does not have to be this way, and you are not doomed to a life of choking down overcooked, tough-as-shoe-leather, ashy bear meat. Properly cooked black bear meat is high on my list of the finest wild game a person can consume and with steaks, you can get them perfect every time.
All you need is a sous-vide or immersion cooker, patience, and a trust in science. Armed with those things you can make one of the most delicious and tender wild game dishes you have ever had.
Ready? Let's go then.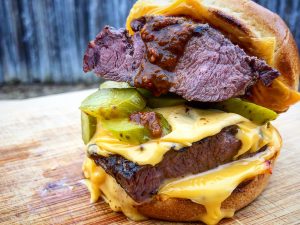 Ingredients
2 bear loin steaks (approximately 1lb each)
½ tablespoon olive oil
Salt & pepper to taste
Two hamburger buns
6 slices of processed cheese (3 per sandwich)
Dill pickles, sliced
Your favourite hot sauce
Any other optional toppings and condiments you prefer
Preparation
Set your immersion or sous-vide cooker to 140 degrees Fahrenheit (we went to 145 to be extra-cautious) and place it in a large stock pot of water.

Season the bear steaks with salt and pepper and a light drizzle of olive oil, and seal either in vacuum-sealed bags, or very tightly in zip-top bags. We use the latter and I actually use a thin straw to suck out as much air as possible.

Once the water is to temperature and holding, place the bags in the water. Since I use the zip-top bags, I like to hang them from a wooden spoon using bulldog clips, but if your bags are vacuum-sealed, they can be clipped to the side of the pot or in some cases just dropping them in whole is fine. The best practice would be to ensure you follow whatever method your sous-vide cooker manual recommends.

Set your sous-vide timer for at least two (2) hours. Be patient, trust the process.

While the meat cooks, prep the pickles, cheese and buns, as well as whatever other garnishes and toppings you like.

After two hours, remove the bear meat from the sous-vide and either pre-heat your grill or prepare a cast iron pan over high heat. We went with our backyard grill and had it heated up to over 600 degrees, but without a doubt the hot cast iron pan option would work just as well.

Remove the meat from the plastic and apply a hard sear on the grill for 1 minute on each side or just enough to get some solid, crispy browning.

After searing, set the steaks aside to rest for five (5) minutes. Slice in half.

Put cheese on each side of your bun and one slice on one of the steak pieces.

Stack up the whole thing with pickles and hot sauce (we are loving Bunster's "S**t the Bed" 12/10 hot sauce lately) or whatever you like for toppings, and then enjoy one of the most delicious and tender steak sandwiches you've ever had.
What can we say? This sandwich blew our minds. The toasty buns with the melty cheese and the absolutely perfectly done, juicy and tender bear meat was just a higher level of awesome than we were prepared for. The pickles and hot sauce were bright and offset the richness perfectly. This was a sunny-day burger that screamed out to be paired with a cold beer, which is what we did.
After we made this sandwich, we posted some pictures and a review on a couple of wild game social media sites. While the feedback was overall to the positive, we were still a bit surprised by how many people came back to chide us for under-cooking our bear meat and that were warning us about how sick we were going to get. Multiple reputable sources stated that the "kill temperature" for trichinosis was in the 135-140 degree range, so we went just a bit beyond that to 145 and held it for two hours there. We were confident that we would be fine.
That was two months ago, and we have had no issues at all, so the lesson may be to exercise patience and trust the science. Still, that reaction speaks to a lot of the fear and misinformation around eating black bears and if we can do our part to dispel some of those myths, we are happy to do so.