There's not much better than clay-busting therapy time spent with a shotgun. Case in point, our annual "family and friends" skeet shoot this past Labour Day long weekend.
Yes, I know I'm using the Canadian spelling for Labour Day. No I'm not changing it, despite the pleadings of Microsoft's spellchecking software.  You'll also need to be aware that it isn't a "skeet-shoot" in the Olympic sense of the term…but more on that later.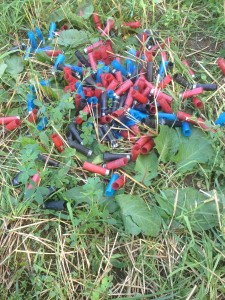 This event has had ebbs and flows over the years, sometimes drawing dozens of shooters and other times just a meager crowd of relations and close friends.  Past champions, myself included, gloat over former glories and lament their inability to repeat those triumphs.  Egos are boosted on the back of a streak of good shooting form, and hopes for victory can shatter like the targets thrown against the sky.
Enough flowery metaphors though.  It is ideally a chance to make the scatterguns go boom, tenderize shoulders in advance of a fast-approaching waterfowl season, laugh and reminisce with pals, and air out petty personal grievances in the form of not-so-subtle trash-talk.
The 2015 iteration of this event took place just this past Saturday, or September 5th for those of you without a calendar.  While there was some buzz about it, we found a slightly smaller group lined up in the back hollow.  Some regular attendees were indisposed at a camping trip, while I'm sure others were discouraged by the sweltering temperatures and blazing UV index.  It was well over 30 degrees Celsius when we started the event but the eight of us in attendance were all game to compete, and as we uncased shotguns and peeled open shell boxes the sense of anticipation was obvious.
For a time we milled around, no one really wanting to be the first to lead things off, but eventually one of us crossed onto the shooting line and began thumbing shells into the breech.  As the first clays broke, earplugs were inserted and everyone's confidence grew and before long everyone was lining up for their turn, shooting long flyers and low crossers while we crudely critiqued each other's shooting prowess with colourful language and witty rejoinders.  We set up a line of two or three guns and tested each other's speed and accuracy, even managing to dust the broken flyers of split clays a couple of times.
There were also tragic misses and hilarious reminiscences told.
In time, and in a way that was mostly informal, we came to the competition round.  I had won this single-elimination competition in 2012 by heating up at just the right time and going on a 9-for-9 streak, after a preliminary warmup that exposed just miserable shooting on my part.  To say many 'superior' wingshots were rightly embarrassed that day is an understatement.
The elimination round allows a shooter three shots in a round with the intent being to break single clays thrown more or less similarly.  This year, our designated thrower decided that one of the clays would be randomly selected to be a fast, low, left to right crossing shot, which is arguably one of the harder shots to make in my opinion.  After my cousin Luke had run a perfect 3-for-3 in his opening round, and my brother followed up with a 3-for-3 of his own, I stepped up and broke the first two clays (and I looked damn stylish doing it too, but that's for a future post) before our thrower whipped the third clay, which was the low crosser.  I snapped the 870 to my shoulder and fired in one smooth motion, powdering the target and drawing cheers of surprise from the small gallery of other shooters.  I snapped the pump action on the 870 one last time and confidently headed back behind the firing line, content in my glory.  My friend Jason, who was firing a side by side shotgun of reasonable vintage, also managed a 3-for-3 so a quartet of shooters headed to round two.
I powdered two more clays in the next round, including another low crosser before tasting defeat on a clean miss at the third target.  My brother also bowed out in the second round, while Luke and Jason had perfect second rounds to advance to the final.  In the final round, Luke missed one clay, which was enough of a window for Jason to run another perfect round, finishing 9-for9 and taking this year's honours as the champion.
We celebrated by shooting more clays, telling dirty jokes, and critiquing my wardrobe.  We put the guns away and attempted to catch thrown clays in our bare hands.  My brother and I each managed to make some catches, showing that soft hands are for more than smoothly swinging a shotgun.  Eventually the hour came to clean the field and with the guns stowed we had some cold beers, piled up the empty shells, and retrieved any unbroken clays before sitting on truck tailgates and laughing some more.
As I sat there in the sun, shoulder tingling from the pounding of countless rounds, laughing with good friends and enjoying the last weekend of the summer, the sense of fellowship and freedom hung heavy in the humid late-afternoon air.  A family and friends barbecue was going to start in a couple of hours and it required me to shower and change my clothes…not for my own pride but out of a sense of politeness to the other guests.  We posed for the annual photo shoot and made plans for the upcoming weekends of goose and duck hunting, and then we headed back from the hollow down to the farm house.
The turnout had been on the small side, the shooting had at times been atrocious, and the sun had been a bit hard on us all.  Still, traditions are made to be maintained, and blazing away at our annual farm skeet shoot is one tradition I'm happy to honour.